NEW LINE OF SUSTAINABLE PRODUCTS: "GREEN AR SHELVING"
AR Shelving presents a new line of sustainable products: "GREEN AR SHELVING". For a better understanding of what this is, we have invited Iñaki Bringas, our commercial director, to explain it to us.
Good morning, Iñaki. Could you tell us how the idea of creating a new range of sustainable products came about?
The idea stems from the combination of two factors: On one hand, Grupo Arania's concern for sustainability and, on the other, growing interest from our customers, both users and distributors, in including environmentally-friendly products in their ranges.
Let's begin with our Group. Arania is one of the largest organisations in Southern Europe in steel transformation. If we take into account that steel production is one of the industrial activities that emit the largest amounts CO2 into the atmosphere, we have a significant responsibility in this area.
Resulting from this concern, Grupo Arania has reached a strategic agreement with the steelworks Salzgitter, one of the largest European steel producers, to join the SALCOS® programme, that seeks to decarbonise the steel production process in the medium term.
Our Group will be one of the few organisations able to have green steel levies (>95% reduction CO2) from 2026.
I see that you're speaking of "green steel". Has this got something to do with CO2 compensation?
It's interesting that you ask me that, because various distributors have already asked me the same thing.
It's actually quite different: The compensation of CO2 emissions consists of paying an economic amount, proportional to the emissions generated, for a project that avoids or captures the same amount of CO2 emitted.
For example, planting trees, implementing work from home… These are positive actions for "compensation". However, "green steel" is a much more ambitious project that seeks to decarbonise the industry by investing in new production processes. In other words, it consists of manufacturing steel with zero emissions.
Although "compensating" is also a positive action, the polluting process is still the same. "Green steel", on the other hand, gets to the root of the problem and entails true long-term sustainability.
Grupo Arania is making large economic investments to be able to be part of this project, and really transform the steel industry.
So, if green steel isn't going to be available until 2026, what does the GREEN AR SHELVING product line consist of today?
We aren't going to be able to have steel manufactured with zero emissions until 2026, although we have achieved a guarantee from Salzgitter of a limited quota of spools manufactured in a mini electric furnace, which reduces emissions by up to 80%.
We feel this is such an important achievement for the sector that it warrants the significance of the launch of a new range.
You mentioned that the amounts are limited. Does this affect the distribution?
Without doubt. It's a very exclusive project, and unfortunately, we can't have as much green steel as we'd like.
Therefore, in 2023 we will only be able to introduce it exclusively for strategic partners, which have already expressed their interest, to test it as a promotion.
As of 2024 we hope to be able to consolidate this range permanently.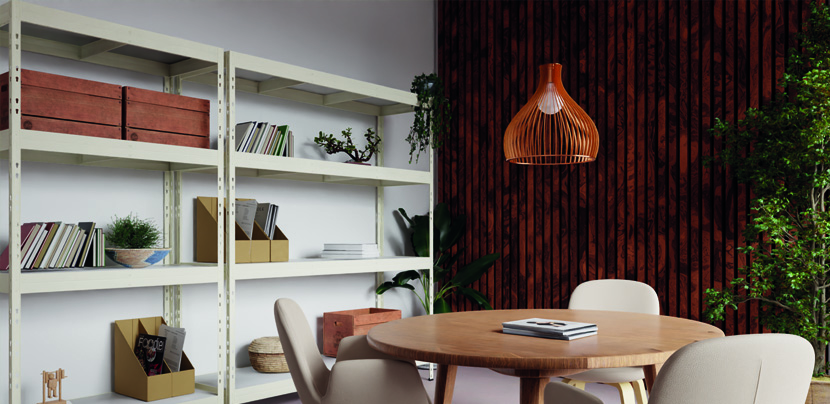 Do you want to know the latest news about the group we are part of?